"At Last…Washing Biodiesel And
Quality Testing Without Headaches
and Hassles"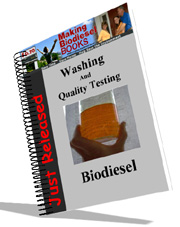 The No Fluff, No BS Guide to Washing and Quality Testing Biodiesel.
Now You Can Have Quality Biodiesel Even Better Than Some Commercial Dealers!
My methods are So Simple, Anyone Can Do It and Start Saving Money Today.
Let's face it, Washing Biodiesel and getting quality, commercial grade fuel every single time is tough!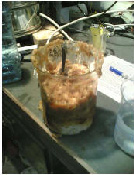 There's no doubt, making quality biodiesel every single time is probably the most difficult part of the biodiesel process for any experienced "Home brewer' to learn.
Do it wrong (and we all have) and you won't end up with biodiesel, what you'll up with is…. Not Good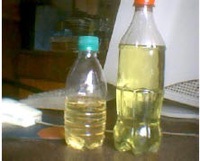 Which is too bad, because it doesn't have to end up that way. With a little bit more info, a little more education, you could be making biodiesel that looks like this every single time.
Very good
Problem # 1…
…is where do you find this information? It's all over the place! It is scattered all over the internet. Then you have to save it, then print it, from a hundred sources. You have to bind it together yourself.
Problem # 2…
Let's say you DO find a book on the subject (Which you won't…I've looked. There is nothing available specifically devoted to this topic.) They would be filled with technical descriptions and complex chemical formulas, written by Dr. Jeckel Von Biodieselstein, but not enough actual easy to understand, visual, step-by-step instructions. You practically need to hire Egor AND a brain surgeon to figure it out.
Problem # 3…
Lots of the information out there is outdated. But you're not going to know that. You're going to think everything is roses, until….Do it wrong and you've just wasted a whole lot of time and money.
Sound at all familiar?
What Makes Washing and Quality Testing Biodiesel E-Book So Exciting is That it Gives You The Power To…
• You'll be able to make high quality fuel every single time. I'm going to empower you with the knowledge to get you up and going, quickly, cheaply, and easily.
• Plan your Washing and Quality Testing Project with Confidence… Here's the place most people go wrong, but you won't. You'll know what to do, when to do it, and importantly exactly WHY you're doing it.
• Build a 55 gallon Biodiesel Wash Tank with ease… Step-by-step, I take you by the hand and show you, how to build your own 55 gallon wash tank out of a used 55 gallon barrel. It won't cost you Squat.
• Trouble-shoot and solve problems before they arise.. Unlike other books, I know problems are "part and parcel" with any making biodiesel project. I don't gloss over them, instead you get SOLUTIONS.
Right Now you can discover… The Right (and the Wrong) Way to Learn Washing and Quality Testing Biodiesel at Home.
This newly released work called Washing and Quality Testing Biodiesel by David Sieg is the quickest and easiest way to learn a complete system of making biodiesel. Inside this magnificent work you'll get over 71 pages of solid, no fluff, no BS, REAL WORLD, biodiesel knowledge. Absolutely everything any beginning Biodiesel Home Brewer would need.

This work is divided up into 3 comprehensive E-books:
Section I: Washing Biodiesel: This is where you'll start by getting a firm foundation to build on.
• Washing Biodiesel: We'll start off with an easy method anyone can use. The beauty of this method lies in the fact that's perfect wash for test batches.
• Bubble Washing: What biodiesel is, and more importantly, what its not. How you can easily, and cheaply set up a bubble washing station in an afternoon with simple, easy to find parts. No fantasy, no pie-in-the-sky, real world biodiesel.
• How to Build a Wash Tank: Including plans and diagrams. You'll get in-depth answers. You'll know ahead of time if this project is something that will work for you
• Biodiesel Dry Washing:, Not everyone can do it. Complete with color pictures to guide you through the process. Know up-front the problems you might encounter…and how to overcome them.
• Mist Washing: My personal favorite. Everything you need to know, where to get the parts, and how to set up your own mist washing station.
• Mix Washing: A lot of people confuse this with mist washing…they're NOT the same.
• Biodiesel Magnesol: How about washing biodiesel with no water at all? Magnesol is a new-comer on the biodiesel scene, but if the claims are true, it could save you time, energy and money. Find out here.
• How to Scale Up To Washing Larger Batches: Easier said than done. After reading this chapter, you'll be able to do it with confidence.
Section II: Emulsion Busting: i.e. "Glop" There's nothing worse than spending time, money, effort, and seeing your biodiesel turn into mayonnaise. believe me, I know.
• Glop: Yeah, it happens. What it is, and how to avoid it. What to do, and what not to do. How to set everything up in the beginning to make sure it doesn't happen to you.
• Glop Busting on Steroids: More in-depth answers, delve into the world of glop, fix problems, get answers. I give you solutions.
Section III: Quality Testing. Washing biodiesel is great, it's gotta be done. But Quality Testing is where it's at. You have to KNOW, BEFORE you put it into your engine, if your biodiesel is any good. Here is every biodiesel test you need to know.
A Simple Quality Wash Test, to get you understanding the basics of quality testing.
• Visual Inspection, what you need to see, and what "good biodiesel" should look like.
Commercial Quality Testing:
• ASTM Testing Explained: The "Gold" standard of biodiesel testing. This is what commercial grade biodiesel should match up. Now you'll get it explained in easy to understand language.
• Clarity Testing: Use this "down and Dirty" test through out the washing process. It gives you immediate feed-back on quality biodiesel should look like all the way through.
• pHLip Testing: What it is and how you can use it to benefit your own biodiesel making efforts.
Cold weather Testing:
• Cold Weather Testing: The tests you should use to see if your biodiesel will stand up to cold weather. If you live in a cold weather climate, this part of the e-book is worth it's weight in gold. If you live in a cold weather climate, don't be making biodiesel without this information.
• Gel Point Testing: More info of use to cold weather biodieselers. Find out EXACTLY at what temp your biodiesel will start to gel. And what you need to do to make sure it doesn't freeze in your engine.
Feedstock Testing:
• Feedstock Testing: Know up-front if that restaurant grease or waste oil is any good. With these tests, you'll know ahead what problems you'll be encountering from the very beginning.
• Titration explained in easy to understand language, color photographs "visually" walk you through the entire process. Also included are a number of easy, methods you can use without buying expensive, budget-busting, gizmos and gadgets.
Water/Moisture Testing:
• Water Content Testing: Water is one of the main reasons for biodiesel going wrong. Use these tests to determine if water is present in your feedstock.
• The "Frying Pan" Test: another test to determine water content. Neat, easy, simple and quick.
• The "Hot Pan" Test: Like the Frying pan test above, but this one will give you everything you need to know about water present, how much water volume by percent, and what to do to neutralize it.
• Misc. Other Tests: An entire page of tests you can use on a day-to-day basis to determine quality.
• And much more
Just imagine being able to make Quality biodiesel anytime, any place, almost anywhere…without the headaches and hassles, and without the high cost of fuel eating into your budget every month!
As you can see this really is the ultimate tutorial for washing and quality testing biodiesel. There's no other resource like it, collected in one place, in an easy to research volume.

Listen to What Other Customers just like you have to say:
"What a life saver! Your system has helped me save 1000's of dollars in my trucking business. I can't say it was easy, but once I followed your system and advice, it fell into place. My business remained competitive because of you. "
…Julien Whithouser, Oak Bend, WI
"I had to think about your question for awhile… "Why do I keep buying your e-books?" Because, hands down, without question, the quality of your books are the best. You have saved me 1000's of dollars this year alone. Not only that, but every time I email, I get a reply in hours, sometimes minutes. (Don't you ever sleep?) NO ONE else gives service that. You keep writing, I'll keep buying. This e-book is the best one yet. And yes, before you ask, you can use this as a testimonial. If anyone has any questions, any doubt, tell them to contact me."
Mike Landsrow…Aquatesting LLC, Milton, Conn.
"OK, I'm impressed. Your other books were good… washing biodiesel is great. It's official…consider me a "repeat" buyer!"
Somsak Thanglapreporn …Bangkok,Thailand
"Hey Dave, your book is great. They keep getting better and better. There's nothing out there that comes anywhere close to the quality of your e-books…keep them coming, Mate.
Rodney Crossfield…Queensland, Australia
Okay – Cut To The Chase…What's The Cost ?
Washing and Quality Testing Biodiesel costs just $29.99.
But the bargain goes far beyond the actual price. I'm not going to insult your intelligence by telling you that you're accessing some 'secret' batch of information. Whatever you find contained within Washing and Quality Testing Biodiesel is accessible to anyone searching the Internet. And if you had the time and the motivation, you could perform the exact same research that I did, and come up with the same information. That's the truth of the matter. Finding most of this stuff was like looking for a needle in a haystack. And the haystack was the size of 1 million football fields.
Finding appropriate resources for Washing Biodiesel often meant I had to dig far beyond the first 10… 20… or even 50 pages in the search engines. Some of the best stuff was neatly stashed away underneath page after page of junk. Once I found what looked to be a quality resource, I had to do an internal check of the site to make sure the stats they provided were fairly up to date. That was the cherry on top. So no… I didn't just slap this report together during my 1 hour lunch.
You see, I'm not only a writer, I'm a full time teacher and business owner. And I've got a day-to-day schedule that's usually filled from sun up to sun down. So I'm not a big fan of bulky info products containing a lot of filler. And when I write for my readers, I prefer to provide quality over quantity. And this careful attention to providing quality – I believe – will give you a bright eyed, bushy tailed dose of inspiration in an area where good ideas can either make or break you.
…3 Special Bonuses For Your Quick Action
Needless to say, this information is jam packed with info. Truth is, you'll never find this in-depth information in any book or manual that I know of. But even with that said, just to sweeten the pot a bit I'm also going to hand you 3 special bonuses to reward you for taking action immediately.

Bonus #1: Biodiesel Safety Report: (a $19.99 value)
This report is a no-nonsense guide to making biodiesel, storing, and using biodiesel safely. Some of the chemicals in biodiesel can be toxic when mixed. This is information you must know before you start making biodiesel.

Bonus #2: How to Get All The Waste Oil You'll Ever Need Special Report (a $19.95 value)
If you're going to make biodiesel, you need to have a steady, reliable source of waste oil from the very beginning. This report shows you how.

Bonus #3: The "Biodiesel Handling and Use Guidelines" Published by the US Government, this 69 page document is packed with safety information and a number of subjects, including…biodiesel basics, warranty issues, safety and health, using biodiesel, and much more.
60 Day, No Risk, Unconditional, 100% Money Back Guarantee
Your satisfaction is 100% guaranteed. Scrutinize the system closely. Examine it. Test it for up to 8 weeks. Use it to the max.
If you're not thrilled with the washing biodiesel results, then I want you to simply write and tell me, and I'll send you a prompt and courteous, nohassles, no questions asked, 100% refund.
If on the other hand, this system help you to save $100's of dollars a month then I want you to email me your success story of testimonial to tell me about the results you achieved.

Only $29.99
NOTE: Washing Biodiesel is a downloadable e-book. No physical products will be shipped. After you order, you will get INSTANT ACCESS to download the e-book and all the bonus reports onto your computer. The e-book format is adobe acrobat PDF, which can be viewed on Mac or PC..