Tropical cyclones (TC), depending on their location and strength, are known by various terms, such as hurricane, typhoon, tropical storm, cyclonic storm, and tropical depression. The first TC of the 2010 North Indian Ocean hurricane season formed in the Bay of Bengal on May 17th. Spanning hundreds of kilometers in diameter, Laila became a Category 1 tropical cyclone on May 19th with maximum sustained winds of 75 mph (120 km/hr). Affecting both Sri Lanka and India, the storm made landfall on the 20th near Bapatla, Andhra Pradesh in southeast India. This is the first May storm to affect the southeastern portion of the country in two decades. At least 56 people in India were killed and 75,000 displaced as heavy rains and strong winds battered the coast.


Tropical Storm Agatha, the first named storm of the 2010 Pacific hurricane season formed off the west coast of El Salvador on May 29th 2010. The storm made landfall near the Guatemala–Mexico border that same day. Although the storm only intensified to sustained winds of 45 mph (72 km/hr), the slow-moving system dumped up to three feet (almost one meter) of rain in parts of Guatemala, according to government officials. One of the deadliest Pacific tropical cyclones on record, at least 184 people were killed in Guatemala, El Salvador, and Honduras (with most of the deaths concentrated in Guatemala) and more than 165,000 were evacuated from their homes. All three countries declared states of emergencies. A large sinkhole more than 60 feet (18 meters) wide and 200 feet (60 meters) deep formed in the middle of Guatemala City, swallowing a street intersection and a three-story clothing factory. For Guatemala, this was the second disaster to occur within a short period of time. On May 27th 2010, Pacaya volcano erupted for the first time in more than a decade, spewing ash and debris for miles, killing three people, and forcing hundreds to flee their residences. The Gualtemala City airport—the third largest airport in Central America— closed on May 27th 2010 for several days as it was covered with ash up to three inches (80 mm) deep.
Tropical Storm Hubert struck Madagascar on March 10th 2010, killing at least 36 people and rendering another 38,000 homeless. Madagascar lies in the main storm path of the Indian Ocean basin and typically sees three to four major tropical cyclones each year.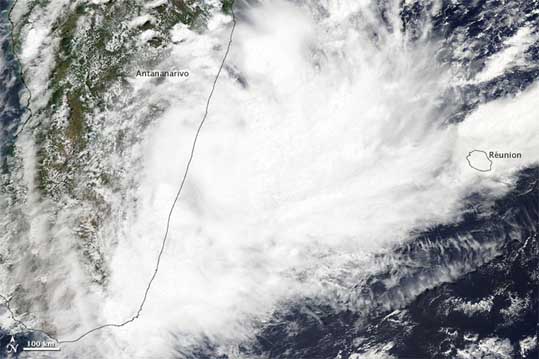 TC Ului developed on March 9th 2010 in the South Pacific. During a 24-hour period over March 13th-14th, Ului intensified from a tropical storm to Category 5 status, tying Hurricane Wilma for the fastest intensification of a system and making it the first Category 5 storm of the season.
During this time frame, maximum sustained winds increased from 65 mph (100 km/hr) to 160 mph (260 km/hr) while pressure at the center of the storm decreased from 982 mb to 918 mb. The storm rolled over the Solomon Islands as a Category 5, causing severe flooding and massive damage; no casualties were reported. The storm then weakened and made landfall on March 20th 2010 as a tropical storm in Queensland, Australia near Arlie Beach. As much as 18 inches (450 mm) fell in parts of the Mackay-Whitsunday region.
Located to the east of Ului, TC Tomas, a Category 4 storm at its peak, battered the South Pacific island nation of Fiji March 13th-16th. Sustained winds of 132 mph (212 km/hr), with gusts up to 161 mph (259 km/hr), tore through the northern Lau and Lomaiviti groups and the northern portion of Vanua Lau—the second largest island. A storm surge of 23 feet (7 m) was reported as more than 14 inches (350 mm) of rain was dumped over some areas. At least one death was blamed on the storm and a state of emergency was declared for the country's northern and eastern regions on March 16th 2010.