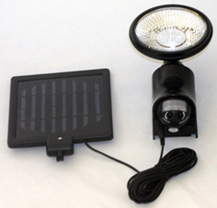 Outdoor Security Solar Lights
Most outdoor solar powered security lights have a small solar panel and sensor. The lights can be fixed in front or backyard, over driveways and they help keep the electricity bill down. You just need to ensure that the little solar panel is directly facing the sun, as this is what powers the unit. Generally solar security lights are easy to install, are robust and weather resistant and have an automatic on/off switch.
Garden Lights
Solar lights are undoubtedly better for the environment as they are powered from a renewable resource. These type of lights charge during the day and can switch on automatically when the sun sets. The great thing is that there are no unsightly electrical cables, and you don't need an electrician to install them.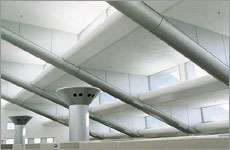 Interior Lights
The Solar Energy Research Facility (SERF) at NREL picyured on the left uses a light shelf on the south side for day lighting. It also has small square windows on the east and west to minimize glare.
Throughout the 1900s, use of the sun as a source of energy has evolved considerably. Early in the century, the sun was the primary source of interior light for buildings during the day. Eventually, however, the cost, convenience, and performance of electric lamps improved and the sun was displaced as our primary method of lighting building interiors.
Attempts to use sunlight directly for interior lighting via lens collectors, reflective light-pipes, and fibre-optic bundles were the next step.
A recent technology, Hybrid solar lighting collects sunlight and routs it through optical fibres into buildings where it is combined with electric light in "hybrid" light fixtures. Sensors keep the room at a steady lighting level by adjusting the electric lights based on the sunlight available. This new generation of solar lighting combines both electric and solar power. Hybrid solar lighting pipes sunlight directly to the light fixture and no energy conversions are necessary, therefore the process is much more efficient. It is currently being developed and tested by Oak Ridge National Laboratory in collaboration with the Department of Energy and several industry partners.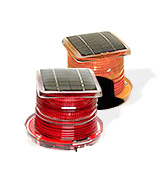 Hazard Marking Light
A new safety solar light has been designed for use where long range visibility is required (1-2 miles). They are completely integrated and self-contained, rugged, reliable, and require no maintenance or servicing for up to five years. There are solar applications for bridge-marking, railways, roadways and airports.
There are also sea flare lanterns that provides the ability to mark a channel, port or river with independently operating lanterns that all flash in synchronisation. This presents a clear outline of the channel each time the lanterns flash, and is particularly effective in overcoming background lighting. In Australia, the Port of Melbourne Corporation has adopted this technology from Sea lite to clearly identify the channel leading into Station Pier- an area that regularly accommodates some of the world's largest passenger vessels including the QE2.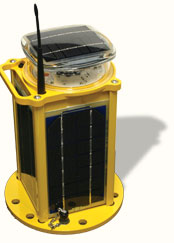 Carmanah make a solar-powered LED aviation light which is a versatile and reliable Portable Solar Airfield Lighting System (PSALS). It is ideal for permanent, temporary and emergency applications. A revolutionary new optical lens design with high-intensity visible/IR dual-mode LEDs gives the light unparalleled effective intensity. It can be quickly deployed as a cost-effective runway lighting system. With no trenching or cabling required, a two-person crew can install a fully operational 5,000 ft. runway in one hour or less, making it ideal for use during emergencies or natural disasters. The light also has a powerful battery system (recyclable) enabling up to 600 hours of operating autonomy without additional charging



Solar street lights are the ultimate cost effective solution for rural and urban large-scale lighting. Unaffected by blackouts and independent of the fluctuating costs of grid power, solar street lights are available in different formats, technologies and brightness and many can be programmed to fit any lighting schedule depending on country, season or situation.
The applications for solar powered outdoor lighting systems are endless. Solar powered lights can be used for: Security and safety lighting, rural area lighting, Dock lights, Park lighting, Parking lot lighting, Parkway lighting, Walkway lighting, Street lighting, Transit Lighting, Outdoor area lighting, Military and civil security and so on. The costs of trenching and installing underground wiring often make a solar street lighting system an economically feasible lower cost option.