Taking the Mystery Out of Solar Power
Understanding and Installing Your Own Solar Electric System takes the mystery out of solar electrical systems.
It explains solar power in language that the average person will have no trouble understanding and putting to good use.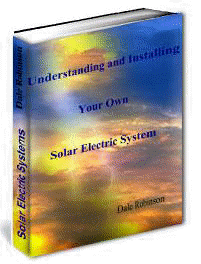 It takes you through the learning process step by step, starting with an overview of solar power and continues on with one of the most important things involved when living with an alternative energy system, i.e., energy conservation.
You'll learn about the various components of a solar electric system – batteries, inverters, charge controllers, photovoltaic panels, etc. and how they connect to and interact with each other to form a complete solar electric system.
"This book is well written and easy to understand for the novice, and the everyday person.
(It).. also attends to the basics of energy conservation and how important it is to succeed in that discipline…"
Bonnee Caplan, eBook Reviews Weekly


This is the actual Table of Contents of Understanding and Installing Your Own Solar Electric System.
Table of Contents
Introduction
Conserving Power and Living With Solar Energy
What Photovoltaics Can Do For You
Installation and Maintenance
Getting Started
Electricity Basics
AC – DC
System Design and Sizing
System Components
Photovoltaics
Batteries

Introduction

Deep Cycle and Shallow Cycle

Sizing Your Battery Bank

Battery Installation and Wiring

Battery Connections

Temperature Effects

Gassing

Battery Enclosures

Signs of Aging

Maintenance and Monitoring

Battery Capacity

Deep Cycle Batteries

Charge Controllers
Inverters
Monitoring Your System
Wiring and Safety
Battery Chargers
Generators
Appliances
Grid Intertie
Site Analysis and PV Module Mounting
Solar Roofing
Water Pumping with Solar

Appendix
Power Load Calculations
Array Sizing Calculations
Battery Sizing Calculations
Sample Sizing of a Simple Solar Electric System
Battery State of Charge Table
Solar Array Wiring (diagrams)
Battery Bank Wiring (diagrams)
Wire Sizing in DC Circuits – Wire Loss Table
Links to Helpful Sites
Glossary
Photos
Photo Credits

Understanding How Solar Power Works

Now days, most people realize that solar energy is here to stay.
It works, it's affordable and the positive environmental impact is substantial.

However, many people are slightly baffled by the idea of having plenty of electrical power, without the large utility companies being involved.

How does solar power work?


How do the various components of the system hook up and interact with each other?


Could I install it myself?


Can I still use all my appliances?


How will I know if its being installed correctly?


What if I'm already tied into the regular power grid?

These and just about any other questions you may have are all answered.

Knowledge Brings Confidence

Understanding and Installing Your Own Solar Electric System is a reference book that you can not afford to be without, if you are at all interested in solar electric systems.

With the information contained in this ebook, if you are at all handy with tools, you should be well on your way to installing your own moderate sized system.

Even if you're not the handyman type or simply don't have the time to do the actual installation, the knowledge gained from this ebook will allow you to figure out the size of system you need.

You'll be able to purchase your components and contract out the job with confidence, knowing what is needed and what is going on at all stages of the installation.

Once your system is up and running, this ebook will continue to serve as an easy guide to the on-going maintenance of your system.

Priced at only $24.95, this ebook will absolutely benefit the novice as well as prove helpful to the more experienced user of solar power.

Guarantee

Understanding and Installing Your Own Solar Electric Systemwas written with the idea in mind of taking some of the mystery out of solar power, in the hopes of expanding the use of alternative energy.

I'm so sure that you will find this ebook beneficial that I'm willing to back it up with a 100% unconditional, money-back guarantee.
Download, read it, use it for a full 60 days risk free.

If for any reason you are not satisfied with this ebook, your money will be refunded. Period. No questions asked. No forms to fill out. Just ask and your money will be refunded.

You have absolutely nothing to lose.




To download your copy instantly for just $24.95, click the order link below. This will take you to a secure credit-card payment server operated by ClickBank. Once your payment is completed (which typically takes a few seconds), you'll be instantly directed to the download page.