by Michelle
(Philippines)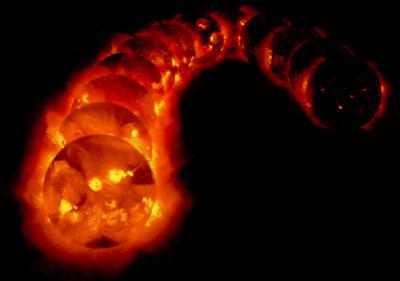 Solar Cycle
I can never say that I understand all the details, elements and aspects of solar energy. All I know is that the extent of the sun's power is countless and infinite. Even today's scientists conduct experiments and research in order to give adequate explanation to the solar forces.
According to research solar energy is divided into two categories – thermal and light. Thermal energy is the most common type that involves heat and is widely used in the construction business and industry. On the other hand, light energy involves the transfer of luminous waves to our planet.
If we were to mention all the benefits that the sun gives us – it would take us a whole day to give an account. We can start from the simplest things like, just drying our clothes, to the most complex of transforming it to electricity. Here are several advantages of solar energy:
•Provides energy for most living beings.
•Generates heat and light.
•Helps us go on with our work and education.
•Allows us to farm and crop.
•Enables animals to find food.
Agriculture is one of the many industries dependent on sunlight. The use of solar energy in farming applications like solar powered watering is cost effective. Since the sun's energy is practically unlimited, most farmers are now able to produce crops and vegetables that sell competitively in the market. Because the majority of rural lands do not have power lines which are helpful to install water pumps, it will be very convenient to have a solar powered water pumping system so as to take care of crop production.
Recently, the great energy savings and cost of this agricultural method has been reported in many of local and foreign news. Solar motorized structure does not only involve reduced cost, it is also easy and simple to maintain. This information had been made available by agricultural experts who have studied about the advantages of this process. Online services, promotional materials, and press releases have been continuously spread in order to share the massive and immense benefits that solar energy provides.
We all know that a strong nation can be measured by a stable and established agricultural sector. Currently, improved solar technology can be used to further develop and strengthen our farming and rural lands. We must recognize the advanced and convenient applications that we can adopt in our agricultural customs. Solar energy can be used in various plans like solar buildings, alternative power lines and fencing.
You know it just as much as I do. We need an alternative power source that does not have harmful effects to our environment. This does not only concerns agricultural divisions but also for our daily activities. The danger of global warming is no joke. It can snatch everything that we have including our lives. Let us all help in the restoration of our natural world and have a better place to live in.