There is no question that the Revo electric scooter is a quality product. The 36 volt monster is propelled by an 800 watt high output brushless DC motor and can reach speeds up to 34kmh effortlessly over a 14km range.
The Revo Sprint pictured here has a heavy duty frame, with a load capacity of 125 kilograms. Ample braking is provided by wave style rotor disc brakes fitted both front and rear. The sprung front and rear suspension provides a comfortable ride every time, boasting 3 inches of travel and can handles the roughest path or track.
The features don't stop there as the Revo Sprint can be fitted with a quick change battery system for those who can't get enough riding and has a one step fold-down feature, with easy detach seat and MX handlebars.
| | |
| --- | --- |
| Motor: | 800W | 2900 rpm |
| Battery: | 36V / 12AH |
| Top Speed: | 34km |
| Range: | 14 – 15km |
| Drive: | Chain |
| Brakes: | Frt & Rear wave rotor disc |
| Wheels: | Alloy |
| Tires: | 10inch Pneumatic tyres |
| Handlebars: | Alloy clamp, mx style |
| Forks: | 3inch, F and R Suspension Design |
| Folding: | Yes |
| Deck: | ABS plastic |
| Frame: | High-tensile Steel |
| Net Weight: | 29.5Kg |
| Max Rider Weight: | 125Kg |
| Charge time from empty | 6 hours |
| Available colours | White / Black |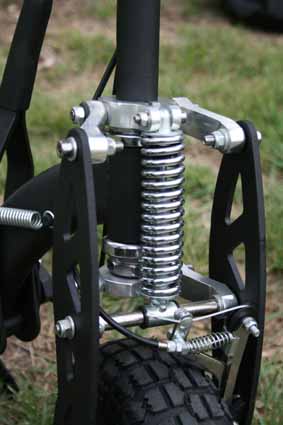 Before you head off and buy the Revo electric scooter (this one was AU$849.00 including GST) make sure you are not going to break any road laws and that you can ride it in your state, region or city.
In terms of greenhouse gas emissions and recharging from dirty electricity, that is fossil fuel based, this mode of transport is still far preferable than driving a car. If you can recharge from renewable energy using a solar panel for instance, we are all in front!
The Revo electric scooter has triple clamp front suspension and a rear swing arm suspension. It can also be adjusted for a softer road.
The rider of this scooter does 18kms a day to and from his workplace. Once he arrives at work after the 9km trip he puts the batteries on charge at his desk to ensure they are fully charged-up for the return trip.
There are three 12 volt batteries in series that make up the 36 volt power pack. Unfortunately they are not Li-ion the battery of choice. All up the pack weighs about 12kg and batteries are held in a bag making it very easy to carry. This is a great system and the bag simply drops into the battery compartment underneath the foot plate.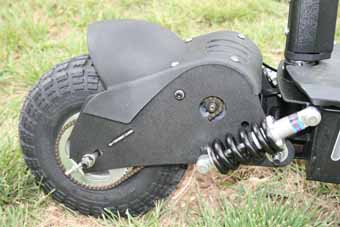 The machine is even equipped with a muli-function battery charge LED that tells you the status of the battery whilst riding. The LED also has other functions to help troubleshoot. For instance if you have the throttle lever depressed and you try to turn on the scooter the LED will blink red. The red LED will also stay on if there is a problem in the PC board.