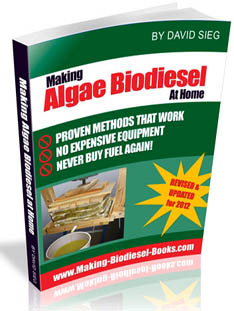 One of the issues is that there are not too many books on the topic. To get all the info you have to collect a dozen different books, from a dozen different and competing fields, some highly technical, and wade hip-deep into the land of the techno-jargon. Micro-biology, cell cultivation techniques, petro-chemical engineering…
Making Algae Biodiesel at Home is the quickest and easiest way to learn about this fascinating subject. Inside this comprehensive work you'll get over 300 pages of "down and dirty" info, plus another 470 pages of collected information from across the globe… over 830 pages of gold-mine info. This book is one of the most authoritative publications on this topic.
Absolutely everything anyone interested would need. Such as…
A visual overview of the entire process

Different algal strains

The best algal strains for biodiesel


Where to buy algal strains

Building algae fresh/salt water aquariums

Building algae green houses

Building Open pond systems

Building photo-bioreactors

Harvesting the algae

Algal oil extraction

Building a Homemade Oil Press

Mass production of algae

Algae biodiesel patents
That is just the tip of the algae-iceberg this e-book covers. The 830 page eBook is divided up into 7 comprehensive books:

Book I: Cultivating Algae:
Why cultivate algae for biodiesel. (The answers here might surprise you.)

Flow Chart and detailed "overview" of the algae biodiesel process

Algae Biodiesel strains: There's over 300,000 algae strains…which one should you use?

How (or if) to choose an algal strain in your local environment

Where to buy algal strains

Algae growth environments

Nutrients to promote growth and reproduction

Algal Culture Techniques

Growth dynamics: Knowing when to harvest

Build an algae test bioreactor

Build an algae incubator for less than $35


Sources of contamination

Book II: Scaling Up: Building a Bio-pond
Step-by-step instruction building a 50 gallon bio pond

Material lists

Parts Lists

Building a backyard open pond

Book III: Scaling Up (Part II) Building an Algae Green House
Planning an algae greenhouse

Different kinds of green houses

Heating/environmental systems

Watering and automatic nutrient systems

Controllers and automation

Book IV: Scaling Up (Part III) Building an 80 Gallon Algae Photo-Bioreactor: Want to be able to build a scalable algae photo-bioreactor for less than $215?
Step-by-step instructions

Book V: Harvesting and Oil Extraction:
Oil extraction principles

Oil extraction methods


"Micro wave" oil extraction method

"Pressure cooker" oil extration method


How To build a Home-made Oil Press
Book VI: Large Scale production Concepts:

Production in Open Ponds

Upscaling starter cultures

Example Lay-out of a large scale algae farm
Book VII: Making Biodiesel at Home:

Biodiesel advantages and disadvantages

Biodiesel Safety

A visual overview of the mixing process

A visual overview of the production process

Making biodiesel in your kitchen

Easy washing techiques

Buy a processor or build your own?

Building a test batch mini-processor
Hi David
Your Making Algae Biodiesel at Home is a terrific document. Congratulations on probably the best collection of information anywhere on the topic. I'm going to be completely honest. I'm a guy who is looking to develop algae commercially, partly because this is so complicated and partly because we need to get off petroleum no matter how we do it. Moreover, if we can integrate this with waste water treatment and powerplants we can make a big dent in cleaning up those guys. I am partnered with some excellent scientific resources in the Woods Hole Oceanographic Institute and the Marine Biological Laboratory. I'd like to share your work with my contacts there to get them up the learning curve. Do you have a rate for academia and non-profits and a way that they could use and circulate internally without violating your copyright?
…Curt Felix
In addition to all the above there are these bonuses included in the manual:
FREE Bonus #1:The Quick-Start Guide. Short on time and patience? This "Down and Dirty" guide is jam-packed and designed to get you up and going, quickly, and easily.
FREE Bonus #2: The Online Resource List: This "Quick Guide" shows you where to go online to buy every part/resource necessary for building PBR's. (Including every place overseas you can buy algal cultures!) Especially useful for overseas buyers and/or people living in places where they don't have access to resources we have in the USA. Cost: PRICELESS time saver if you're living overseas and have to shop by internet or deal with customs/importing issues.
FREE Bonus #3: 4 complete commercial algae photo-bioreactor patents.These are complete commercial patents of tomorrow's algae biodiesel photo-bioreactors. After you read these, you'll know what the big minds, and big dollars are thinking, and doing.
FREE Bonus #4: A Master's Thesis from one of America's top algae biodiesel minds today. He explores current and past models of production, and goes on to explain a vastly superior model based on his own work. The future of algae biodiesel could very well be here.
FREE Bonus #5: The US Department of Energy Aquatic Species Program: Biodiesel from Algae. This is where it all started. This 318 page report in exhaustive in its detail of algae to biodiesel processes using race-way or open pond designs. A MUST-HAVE resource for anyone interested in algae biodiesel.
Free Bonus #6: A 57 page report by Ron Putt of Auburn University where he outlines a feasible plan for Alabama to create 3 billion gallons of fuel to supply ALL of Alabama's ground transportation needs. This is one of the most comprehensive plans I've ever found. I think this report is ground breaking and I'm proud to be able to present it here. New Material!
Together these 6 free bonuses are worth more than triple your investment of only $97.99 — but they're all yours absolutely free. This is, without a doubt, the most complete algae biodiesel collection available ANYWHERE!
30 Day, No Risk, Unconditional, 100% Money Back Guarantee
Your Satisfactionis 100% guaranteed
Scrutinize the system closely.
Examine it. 30 Day No RiskGuarantee.
Only$97.99
NOTE: Making Algae Biodiesel at Home is a downloadable Ebook. No physical products will be shipped. After you order, you will get INSTANT ACCESS to download the e-book and all the bonus reports onto your computer. The e-book format is adobe acrobat PDF, which can be viewed on Mac or PC.