by Nikki Booth
(Melbourne, AUSTRALIA)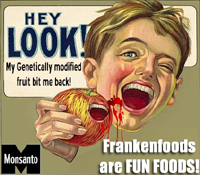 GM Corn Hurts
Apparently corn was first planted in Mexico around 9,000 years ago and the country is now home to more than 10,000 varieties. Corn was adopted by Spanish conquistadors in the early 1500s and eventually spread to the rest of the world.
But guess what! Mexico is going to allow experimental planting of genetically modified crops, despite resistance gtom farmers questioning the idea. Victor Suarez reckons, "This is a step in the government's intention to bow to pressure from Monsanto to allow the contamination of Mexico's native corn,".
I am opposed to genetic engineering as there is no way to ensure that genetically modified organisms will remain under control. Using this technology carries potentially unacceptable risks to both farmed and wild ecosystems.
A variety of genetically modified (GM) corn that was approved for human consumption in 2006 caused signs of liver and kidney toxicity as well as hormonal changes in rats in a study performed by researchers from the independent Committee for Independent Research and Genetic Engineering at the University of Caen in France.
It seems that the more these GM foods are tested, the more frightening the implications seem to be for human health. When companies like Monsanto do their own in house testing, results are mysteriously favorable in nearly all cases, but when independent labs run their own tests, the results are downright shocking.
I find it interesting that the FDA believes U.S. consumers should not be allowed to know which foods are genetically modified and which aren't. The push for honest labeling of GM foods has been blockaded by corporate interests and corrupt federal regulators.
In Nov of 2007 European Union environment officials determined that two kinds of genetically modified corn could harm butterflies, modify food chains and disturb life in rivers and streams, and they proposed a ban on the sale of the seeds, which are made by Pioneer Hi-Bred, Dow Agrosciences and Syngenta.
Only one genetically modified crop is currently grown in Europe, a form of corn produced by Monsanto and nine other companies. Spain began growing that crop 10 years ago, followed by France, the Czech Republic, Poland, Slovakia, Romania, Portugal and Germany. But in a major blow to the biotechnology industry in France, President Nicolas Sarkozy last month vowed to suspend the cultivation of genetically modified crops.
Austria, Hungary and Poland also have banned the Monsanto corn, according to Greenpeace.
Good old Monsanto are hard at work in Mexico to destroy their sustainable corn cropping and make a few million in the process.