Extreme winter temperatures affected much of the United Kingdom during the first week of January. Temperatures plummeted to -9.0°C (14°F) in Farnborough, Hampshire, the lowest temperature since January 1991. Meanwhile Aboyne, Scotland recorded a temperature of -11°C (12°F) on January 5 2009. It was reported that the United Kingdom has been experiencing some of the lowest temperatures in 15 years during the winter of 2008/2009.
Across parts of Spain,, a severe winter storm produced as much as 6-10 cm (2-4 inches) of snow on January 6-7. The heavy snowfall and poor visibility prompted the closure of Madrid's airport during the morning of the 7th and caused disruptions on road and rail transportation.
Bitter cold and widespread snowfall gripped countries in northern and eastern Europe since the beginning of January. In Poland, temperatures dipped down to -25°C (-13°F), causing at least 10 deaths. Germany saw its coldest night of the winter on January 6 with a temperature of -28°C (-18°F) recorded in the eastern state of Saxony. For the first time since 1996, Rotterdam port in the Netherlands had to use an icebreaking ship to clear the port's waterways of ice.
In northern Italy, at least 12 deaths were blamed on the cold and snow during an extreme winter storm on January 6-8 2009. Schools were closed in many cities, and Milan's Malpensa and Linate airports temporarily closed due to a foot of snow within the city.
France's Cote d'Azur, which is known for its mild climate, experienced a rare snowfall on January 7 2009. In response to the extreme winter weather, authorities stopped all buses and closed highways in Marseilles, urging drivers to stay indoors. Operators of France's electricity grid urged customers in southern and western parts of the country to limit power usage due to expected record demand.
Arctic cold air swept through the midwestern and northeastern United States during mid-January, plummeting temperatures below freezing in some areas. Numerous low minimum temperature records were broken during January 16 and January 17. According to reports, this was the coldest event across northern Illinois since February 1996. The severe cold temperatures were blamed for seven fatalities.
Cold arctic air brought sub-zero temperatures to central and eastern Canadamid-January. Some of the coldest temperatures were recorded near Winnipeg, including a low of -36°C (-33°F) with wind chills of -50°C (-58°F) the night of January 13. Regina, Saskatchewan recorded temperatures of -33°C (-27°F) the morning of January 14 with wind chill factors of -43°C (-45°F). This comes after one of the coldest Decembers for Regina in 26 years.
In China, ice and snow threatened to halt transportation on roads and railways as millions prepared to travel for the Lunar New Year holiday (which began January 26). Similar conditions paralyzed China in January of 2008.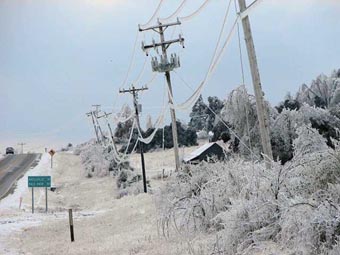 To the left is an image of ice storm damage caused across northern Arkansas. This extreme winter condition resulted in severe ice and snow storm from the southern Plains across to the eastern United States. on January 26-28 2009, producing ice accumulations that wreaked havoc across the affected areas.
At its height, the winter storm was responsible for causing massive outages when 1.3 million residents were left without power. The hardest hit state was Kentucky, where the storm knocked out power for 700,000 residents in Kentucky alone, a state record, and claimed 24 lives (by traffic accidents, hypothermia, and carbon monoxide poisoning). Kentucky's governor, Steve Beshear, described it as the biggest natural disaster the state has ever experienced in modern history. The governor was forced to declare in a state of emergency 93 of the state's 120 counties and ordered 4,600 National Guard troops to go door to door to check on families in the western part of the state, the worst-hit area, help clear out debris, and distribute food and water. The hazardous weather was blamed for a total of 55 deaths across all the affected states.



Across southern Canada, an extreme winter storm swept through on April 11 2008, leaving heavy snow accumulations. Calgary, the largest city in the province of Alberta, saw a new daily snow fall record when the storm left more than 23 cm (9 inches) of snow, surpassing the 88-year old previous record of 15 cm (6 inches). High winds accompanied the snow, prompting the drifting of snow and poor visibility. This is not the first time Calgary has seen large daily amounts of snow during April. According to the Calgary Herald Newspaper, Calgary received 45.7 cm (18 inches) of snow on 21 April 1932.
Extreme winter weather affected central Afghanistan during the first week of February 2008. The cold weather caused 37 fatalities, including 20 children.
In the United States, Wisconsin's capital set a new record for snowfall, with more than 196.3 cm (77.3 inches) of snow so far this winter. The old record was broken when 46 mm (1.8 inches) of snow fell overnight on February 11 2008. The previous record was set during the winter of 1978/1979, when 194.6 cm (76.6 inches) of snow fell.
In the United States, International Falls in Minnesota experienced a new record low for February 11 2008 when temperatures plummeted to -40°F. The previous record was set in 1967, when temperatures fell to -37°F.
Across Greece and Turkey, extreme winter conditions and heavy snowfall caused school and transportation disruptions on the 18th February 2008. In Turkey, the severe weather was responsible for hundreds of traffic accidents across the country and for taking the lives of two people who froze to death.
Heavy snow and cold temperatures affected China's southwestern province of Yunnan for a second time since January 2008. According to reports, about 180,000 people were affected when snow blocked roads and caused blackouts.
In Jerusalem, the second major winter storm this winter brought heavy snowfall on the 18th feb 2008. The storm lashed the country with heavy snow, hail, rain, and strong winds.
Late last year an extreme winter storm affected much of the contiguous U.S. during the week of the 10th December 2007. The massive storm lashed the Midwestern states, covering Missouri and Oklahoma, the hardest hit, in a layer of thick ice. According to reports, tree branches and power lines were coated with 1-2 inches (2.54 – 5 cm) of ice. The icy conditions left more than 800,000 homes without power and were blamed for about 36 fatalities. President Bush declared the state of Oklahoma in a state of emergency and Governor Henry stated that this was the worst ice storm in the state's history. The same system moved towards the Northeast, dumping heavy amounts of snow with Boston receiving up to 10 inches (25.4 cm) of snow during the evening rush hour on December 13. This amount was much more than the city typically see during the entire month of December.






In Spain, cold conditions were experienced on December 18 2007, prompting a huge surge on electricity demand, exceeding the previous record set on 27 January 2005.
Extreme winter weather in Argentina resulted in a snowfall on June 9 in its capital city, Buenos Aires. It was the first major snowfall since 1918.
Unseasonably cold temperatures affected areas of Australia during June 17-22, with many locations breaking their all-time record daily low maximum temperatures.






Extreme winter conditions characterised by cold and snowy weather dominated much of South Africa on June 27, where 25 cm (10 inches) of snow fell in parts of the country. In Johannesburg, South Africa's largest city, this was its first significant snowfall since 1981. One fatality was attributed to the cold. This continued from May 2007, sweeping across South Africa leading to at least 21 fatalities. The cold snap also broke 54 observed weather records. Most of the records were for lowest maximum and minimum daily temperatures, with some locations reaching a low minimum temperature of -6°C (21°F) while in some other locations the lowest maximum temperature was 1.7°C (35°F).






A late season storm dumped nearly a foot of snow across areas of Maine on the 5th of April, snarling traffic and forcing governor Jim Baldacci to declare a state of emergency after at least 275,000 homes and businesses lost power.
A late-season Arctic air mass brought record cold to areas of the Mid-Atlantic and Southeast during April 6-9. Significant damage to South Carolina's peach crop was reported in the United States. Temperatures dipped well below freezing, with many areas observing morning low temperatures as low as -6°C (21°F).






An extreme winter storm deposited a thick blanket of snow to areas of eastern Canada during March 1-2, bringing snowfall accumulations of up to 30 cm (12 inches) to parts of Ontario and Quebec. The snow was accompanied by winds gusting as high as 80 km/hr (50 mph), closing schools and business and delaying flights at both the Toronto and Montreal airports. Two deaths were attributed to the storm.






In northeastern China, a major storm affected the Liaoning Province, reportedly producing the heaviest snowfall in 56 years. The snowfall collapsed roofs and produced transportation delays. Drifts as high as 2 meters (6.6 feet) were observed.






In northern India's Kashmir region, heavy snowfall and cold temperatures were blamed for at least 50 deaths in mid-March. Subsequent flooding from heavy rainfall and snow melt claimed an additional 8 lives by the 21st of March.