The IPCC sees changing climate and extreme flooding as "the most widespread direct risk to human settlements…, driven by projected increases in rainfall intensity and, in coastal areas, sea-level rise. Riverine and coastal settlements are particularly at risk, but urban flooding could be a problem anywhere that storm drains, water supply, and waste management systems have inadequate capacity. Flood magnitude and frequency could increase in many regions as a consequence of increased frequency of heavy precipitation events, which can increase runoff in most areas as well as groundwater recharge in some floodplains."
In the midst of Kenya's first rainy season of 2010, which runs from March–May, weeks of heavy rains culminated in floods and mudslides that killed at least 93 people and destroyed thousands of acres (hectares) of crops. Mudslides have become more commonplace as more forests have been cleared to make way for farming. The flooding is the worst to affect Kenya in more than a decade
On March 1st 2009, after days of heavy rains, landslides buried three mountainous villages in the remote eastern Ugandan region of Bududa near the Kenyan border. At least 85 people were killed—including about 50 students seeking shelter in a local hospital—while more than 300 others were missing (Source: ReliefWeb). In the village of Nametsi, mud and debris rose more than 16 feet (4.9 meters) in height, completely covering most structures.
A storm system that stagnated over the Lower Mississippi Valley on May 1st–2nd 2010, killed 29 people and flooded thousands of homes and businesses. The storms spawned dozens of tornadoes and brought record amounts of rain to numerous locations in Mississippi, Tennessee, and Arkansas. Preliminary reports indicated that more than 200 daily, monthly, and all-time precipitation records were broken across the three states.
According to the US National Weather Service, Bowling Green, Kentucky set an all-time daily rainfall record for May of 4.75 inches (120 mm) on May 1st. However, that record was broken the following day as 4.92 inches (125 mm) of precipitation was recorded. The combined total of 9.67 inches (246 mm) was the greatest two-day rainfall total for the area since records began in 1870. In Nashville, the most rain ever recorded in a single calendar day fell on May 2nd—7.25 inches (184 mm)—making the precipitation received on the previous day (6.32 inches or 161 mm) the third-greatest rainfall total in Nashville's history. This led to a record two-day total of 13.53 inches (344 mm), more than doubling the previous record of 6.68 inches (170 mm) received from the remnants of Hurricane Fredrick on September 13th–14th, 1979. By just the second day of the month, Nashville had already recorded its wettest May on record and fifth wettest month ever. The torrential rains caused several rivers to crest at record levels.
According to a local U.S. Geological Survey official, the flows on various rivers in the Nashville area exceeded those from the historic 1927 and 1975 floods. The Cumberland River in Nashville crested at 51.85 feet (15.80 m) on May 3rd, nearly 12 feet (3.7 m) above its flood stage—the highest level since an early 1960s flood control project was built (Source: AP). The Duck River in Centerville, Tennessee crested at 47.5 feet (14.4 m), smashing the old record of 37 feet (11.7 m) set in 1983. Fifty-two of Tennesse's 95 counties were declared disaster areas by the governor, as were 73 of Kentucky's 120 counties. Preliminary estimates placed damages at more than 1.5 billion U.S. dollars.
Heavy rains in northern Afghanistan and southern Tajikistan during the first week in May 2010 caused extreme flooding, killing at least 124 people and leaving thousands of families homeless. About ten thousand cattle were lost and thousands of acres (hectares) of agricultural land were ruined due to the floods. While springtime flooding is common in the region, Tajikistani officials were surprised by the magnitude of the event.
On May 16th–17th 2010, up to eight inches (200 mm) of rain fell over southern Poland and the Czech Republic in a 24-hour period. The rains and subsequent overflowing rivers brought extreme flooding, the worst in more than a decade to Poland, killing at least 20 people and forcing thousands to evacuate their homes. Poland's prime minister stated that damages could reach three billion U.S. dollars. While Poland received the brunt of the storm damage, the Czech Republic, Slovakia, Hungary, and Serbia also experienced extreme flooding and were majorly affected. Wind speeds of 65 mph (110 km/hr) were reported north of Budapest, Hungary.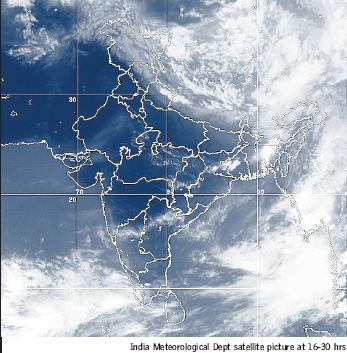 From May 14th–28th 2010, monsoonal rains, in combination with heavy rain bands from Tropical Storm Laila, led to extreme flooding in Sri Lanka, the worst in five decades. On the heels of Laila, the Southwest Monsoon began to develop over the island on May 21st 2010 and stalled for several days due to the effects of the tropical storm. At least 20 people were killed and more than 500,000 were affected by extreme flooding, particularly in southern, western, and central parts of the country.

Australia A slow moving monsoonal system, for the 24-hour period ending at 9:00 AM local time on March 1st 2009, the outback towns of Bedourie and Birdsville in far western Queensland, Australia, recorded 7.4 and 6.6 inches (188 and 166 mm) of rain, respectively. Not only were these daily rainfall amounts the highest recorded for these stations, they also were nearly equal to the average annual rainfall in those areas. As of March 4th, Birdsville received 14.8 inches (375 mm) of rain, more than double its annual average for the entire year.



Heavy rains combined with melting snow brought extreme flooding to southern Kazakhstan on March 12th 2010. At least 40 people were killed and thousands of others were affected. Although springtime flooding is not unusual in the region, this event was exacerbated by intense snowfalls through the winter followed by uncharacteristically rapid rising temperatures.