THINK Electric Car
A Norwegian electric car producer, creating 'Think' has travelled across the Atlantic to establish TH!NK North America in partnership with leading clean-tech investors RockPort Capital Partners and Kleiner Perkins, Caulfield and Byers.
TH!NK city if recharged from renewable energy will be emission free and is 95 percent recyclable. It reaches a top speed of 100 km (65 miles) per hour and can drive up to 180 km (110 miles) on a single charge. TH!NK city meets all European and US federal motor vehicle safety requirements.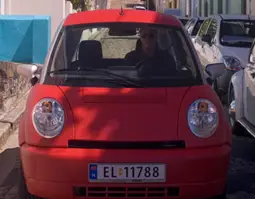 Choose From 3 Models
Think city is a car for the urban environment, with zero emissions (if recharged from renewable energy) and an energy efficiency three times that of a traditional combustion engine car. The car is equipped with ABS brakes, airbags and three-point safety belts with pretensioners. The advanced frame is designed to absorb energy and distribute it away from the passenger's compartment. Even the dashboard and knee padding have been developed to absorb impact. To further protect the driver and passengers, both doors have side impact bars and pusher blocks made of shock-absorbent materials.
The 'Mind Box ' system transmits state of charge and other vehicle statistics directly to a mobile phone or personal computer. The Mind Box will give the driver direct connection to a customer service function, and will automatically call for assistance when an airbag is deployed. Fleet managers are able to both locate and control the charge rate for all fleet vehicles.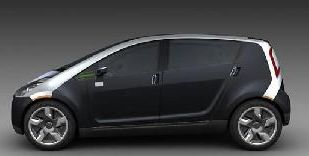 Think Ox is a modular platform concept, designed for electric drive vehicles, for both the European, North American and Asian markets. It is the basis for a variety of vehicle styles, starting with the TH!NK Ox Crossover 5-seater. This is possible due to a space frame concept featuring the main crash structure and the batteries centrally placed in two compartments in the lower frame. In conjunction with selected utility partners, the system will enable "demand side management" by charging during off-peak times, or allowing the utility the option to modulate charging during peak hours. This way, the vehicle will charge during the least expensive, lowest-demand and "cleanest power" time periods, reducing the strain on the electricity power network. The system will also enablevehicle-to-grid (V2G) applications, enabling the "time shifting" of electrical power, energy and carbon credit markets and new "green power" initiatives.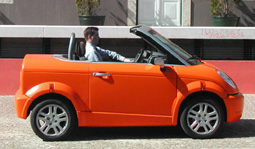 Think Open The open-top design and electric drive train is an attention seeker without making a noise. The TH!NK openis based on the TH!NK city, has the same technical specifications and comfort and convenience features. The TH!NK openis equipped with a demo Connectivity package, that enables real time navigation, web, e-mail and open interfaces.
This 2-seater vehicle has a top speed 100km/h, and accelerates from 0-50km/h in 6.5 seconds. A typical charge time, with standard electric socket 0-100% SOC (state of charge) is approximately 10 hours at 230VAC / 14A. For recharge at 20-80% SOC (state of charge) it is around 8 hours. The car has a range of about 170km with heater off, and around 90 km with heater on.
Battery and Maintenance system
The batteries for a Think electric car are located underneath the seats and well protected from a safety point of view. This location gives good weight distribution between the front and rear wheels, and provides the vehicle with a very low centre of gravity.
The battery compartment can accommodate different types of battery systems. Currently, TH!NK city features three battery options, two different lithium-based(Li) systems and one sodium battery system.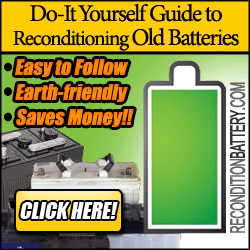 Pricing
The company estimates that the car will be sold at around EUR 20,000, although final pricing will depend on individual market conditions. THINK are considering implementing carbon offset projects, so that every Think electric car driver is carbon neutral regardless of which city the car is driven in.
When purchasing a Think electric car you also continue to pay a monthly battery or 'mobility' fee of around EUR 200. The company will own the battery, and take full responsibility for its performance: The monthly mobility fee includes a full maintenance service agreement, carbon offset payments and in some countries even all electricity used, plus insurance. The company will continue to take responsibility for battery performance throughout the cars life span, (and exchange the battery when necessary). The THINK electric car company can also provide body panels which are practically indestructible and do not rust, dent or fade over time.
See also pages on: Hybrid electric vehicles and Plug in hybrid electric vehicles (PHEVs) or perhaps you would like to convert your car to electric?