The town of Davos in the Swiss Alps, began as a medical resort around 140 years ago in 1853 when Alexander Spengler moved from Germany to this rural village of 1,700 inhabitants. He soon capitalised on the healthy influence of the climate and promoted the alleged healing powers.
Today, Davos in the Swiss Alps is a major Alpine resort, attracting 1.3 million overnight stays in the 2005/06 winter season and this business flow is dependent on consistent snow cover. High towns like Davos used to get peak snowfall of more than two metres 50 years ago but today one metre is often tops. Since the 1970s, average Swiss winter temperatures have crept above the freezing mark. Climatologists estimate that Alpine snow cover today is only reliable above 1,200 metres, compared to 800 metres four decades ago, already making life tough for low altitude resorts.






At 1,560m Davos is one of the highest towns in Europe and has grown to become Switzerland's largest ski resort. Schatzalp/Strela, Parsenn, Pischa, Jakobshorn and Rinerhorn are the five ski areas surrounding the town of Davos. The Parsenn funicular railway takes skiers right up to Weissfluhjoch at nearly 2,750m in altitude and from the top of the Parsenn there is skiing back down to the town or, in a northwesterly direction, over to the neighbouring resort of Klosters.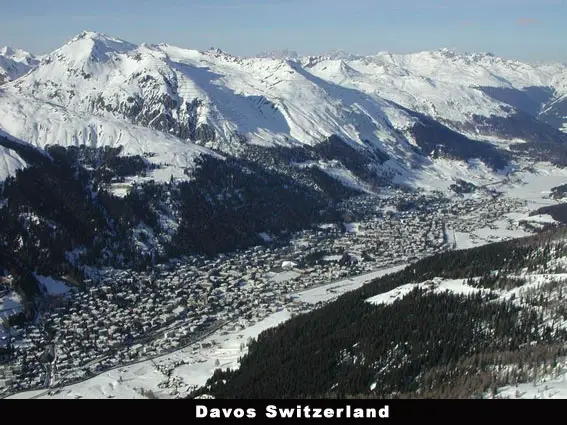 In January 2007, Swiss thermometers reached four degrees warmer than the 1961-1990 January average, making it the warmest first month of the year on record, according to the Swiss meteorological service, Meteosuisse. Apart from the highest peaks, slopes were grey and bare until late January, while spring blossoms sprouted months ahead of time. Change is evident even in summer, when tell-tale gouges stand out on mountainsides to show how thick melting glaciers once were. According to meteorological bureau, the warming in the Alps is on average higher than elsewhere in the northern hemisphere while winters are getting shorter.
Undoubtedly, climate change will negatively affect the tourism industry in alpine ski resorts around the world.